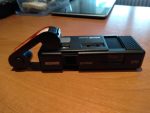 Continuing my quest with antique photo cameras, I recently tried out this neat pocket camera – Revue Pocket 350 that I had sitting on a shelf for a long time. I had forgotten about it and only recently I remembered it. So I went and bought three films for it and used one right away just to see how it performs.
I expected for the result to be worse, but it turned out… ok.
So the camera is from 1978 (camera-wiki.org), it's a point-and-shoot type and it's just a re-branded "Agfamatic 3008" by the German company "Foto-Quelle".
Point-and-shoot means that you can't change any parameters. Only thing you can change is the aperture by sliding the selector on one of the settings that are shown as icons of a sun, a sun with clouds, clouds and a sun with a wave below it. The focus also doesn't change – it's fixed on infinity, so taking portraits with it is not good.
Read more