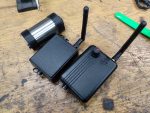 So some time ago I was asked to make this apparatus – a (flash?) light with intensity controlled remotely. The idea was that it could be hanged in some place and aimed at what needed to be illuminated and after that you should be able to remote-control the light intensity.
The light source (doesn't need to be very bright) must be able to have enough power to last for at least a week sitting in idle (only listening to radio signals) and a few hours of constant illumination at night. Depending on the darkness of the night the light source intensity could be adjusted. However the distances over which it would be controlled are 200-300m.
The whole receiving and lighting part needs to be modular – battery, controller and light must be separate for easier handling.
This is pretty easy, fun and a straight-forward task to do with arduinos, but the radio modulation presented a challenge, since it's the first time I have touched these and SPI as well.
Turns out that there aren't many solutions to this. There exists a few radio modulators, but they all go up to 100m at best AFAIK. However there is one – LoRa and that's what I used.
Reading different sources I could gather that a normal distance for LoRa is a few kilometers and that's what it was designed for. The distance you could reach obviously depends on the environment you're in, the equipment you use (antennas, power source) and the settings you set for modulators.
LoRa is able to reach such distances with the cost of transfer speed. Meaning it's ideal to send some sensor values from time to time and not for something that needs to pass a lot of data or pass that data very fast.
So I got to know all the requirements and started to sketch out ideas of how I might construct this.
Read more