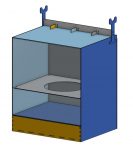 This project idea was born from another project that we at makerspace did, as sometimes happens, when you make something to work temporarily, but later see how well it worked you realize it'd be cool to have a proper thing.
And this time it was when we were photographing Makerspace Hack'n'Tell transitional prizes.
Hack'n'Tell is an event we host every first Saturday of each month where anyone can come and present projects that they did. After presentations, everyone who came can vote for the best project and the winner gets a prize for a month (until next event) and in that time he can add something or modify the prize however he wants and at the end of the year the prizes become something really impressive :)
Anyway, we made a lightbox and began planning how could we photograph them in a way to show most of them. Since the prizes have something to look at on every angle, it's pretty difficult to photograph it in such a way to show everything in a few photos. After a few tries one makerspace member remembered a project he did about ten years ago for a similar reason. It's supposed to rotate an object 360 degrees with high precision and automatically take photos on every turn. It was perfect for this. We placed it inside our temporary lightbox and shot everything we needed.
Unfortunately, there isn't any progress article of that rotator (named "Sukeklis v2" btw), but there are progress photos which can be seen below. It's pretty nicely built and control is simple too – a few http commands to control and get info fully.
Read more