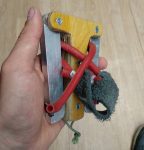 Slingshots are fun. They have always been fun, many years ago they were more of a tool for hunting small animals than fun, though. Now we have huge communities, YT review channels and all that stuff oriented around slingshots and they are very passionate about them.
For me a slingshot was just a fun thing to launch rocks with and I haven't used one in quite a while, I think since I was a kid even. But now with my recently acquired hobby (airsoft) that need to use one came up when I saw in a couple of games that some sort of a grenade launcher would be highly beneficial because I could reach longer distances, throw much more accurately and make it fly to the target faster. A slingshot is the perfect solution to this problem, however I wanted a foldable one for easy carrying in a backpack or a pouch on my tactical vest.
To my surprise there wasn't any to buy, well except one from AliExpress, but it was made more to look good than be practical to use, also it was a bit too expensive and I didn't want such a fancy thing. It's sold without rubber tubes/bands and without a pouch and is too small to shoot my home-made airsoft grenades.
So I thought I could make one myself – a foldable slingshot.
Read more