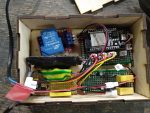 Last year I wrote about how we built a monster fog machine in Kaunas Makerspace for a NoTrollsAllowed hackercamp and during that event we noticed that sometimes it'd be nice to have it automatically dispense smoke so that we wouldn't have to always be around to do it. Now that this year's hackercamp is coming we thought of making this add-on until the event.
We wanted to make it as simple as possible and to be able to control it remotely with any device. For those reasons we chose ESP32. It would need to have a web interface and a captive portal for easy access.
The features that we wanted are pretty basic – to manually release smoke by pressing a button and to make it do that automatically by setting delay and duration times.
For it to actually work, ESP32 needs to communicate with the machine somehow. That is the controller needs to see when the heating blocks are ready and needs to see the liquid status.
Read more