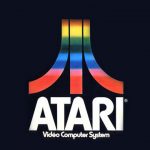 Another addition to my series of retro computer posts. This time I'm writing about the Atari 2600 Rev A. Jr. made in 1986. Quote from atariage.com:
"The Atari 2600 Jr. was introduced in 1986 with a new ad campaign and a new design for the aging system. This is almost identical to the first edition 2600 Jr. except that the Rainbow on the metal plate is wider. It came in a small silver box, and can also be found in a red box. Once again it has the same functionally as other Atari models, just a difference in appearance."
I don't usually find genuine pieces of electronics or antique laptops with a unique design at a local flea market, but my last visit was very much worth it.
This is a genuine piece that I got for 10€ – the dude doesn't even know what he's selling, or don't care. Usually with laptops I'd do a bit of a maintenance like cleaning and replacing a CMOS battery, but this is so simple and in a really good condition that I didn't have to do anything, except for brushing off dirt.
To my surprise though, this thing was in a full package – PSU, controller and a game cartridge – I mean I was surprised because all of the antique laptops I find don't have anything else with them. I grabbed this thing right away and ran home to check if it works.
Read more