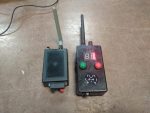 If you were reading my blog you probably know that I play airsoft for several years.
Here the sites that we play in don't change often and in most places airsoft grenades can be used.
In Lithuania, airsoft grenades are essentially firecrackers with up to 1g of powder placed in a small container and filled with BBs, dry peas or anything that is kinda round and represents shrapnel. Very simple, effective and you don't have to pick it up after using.
So, in that time I noticed that a device that ignites a grenade when I want to at a set location would be very useful when taking back positions from enemy whenever they would barricade themselves in and I dubbed thee – REMDE. For open fields, I've come up with a solution that I wrote about here to fling grenades much farther than I could by hands.
The device functions very simply – the bare minimum is made up of two devices – the transmitter and the receiver.
Whenever I go into a nice position that I know enemy is going to sit there when they take it, I place the receiver down somewhere, attach an e-match (the very same used for firework shows) to it and attach the grenade to the e-match.
Now when I need to, with one button, I can check it's status if I have multiple receivers and I forget if I had used it. With another button I can send a command to ignite the e-match.
Read more