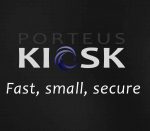 At work we have a couple of info kiosks (we call them terminals) that we bought from some company many years ago, but the support has ended also many years ago, so they abandoned them. The kiosks were running some custom software that the company had thrown together, it didn't seem very professional from an IT guy's perspective, because those kiosks were lagging and eventually would hang and would need a manual restart. We were living with this for some years until eventually both kiosks just hanged and didn't properly boot for no reason.
After this we decided to look for a solution and whadya know – there is one free and simple solution with plenty of customization options for our needs. It fits our situation perfectly and it's called "Porteus Kiosk"
"Porteus Kiosk" is a kiosk edition of Porteus, a portable Linux OS based on Slack and it seems to be popular enough to have a Wiki article for it…
Our kiosks have a "Elo TouchSystems 2515" monitor (meaning there's no mouse or keyboard) and a "ZOTAC ZBOX ID13" mini-pc which has very low specs like an old Intel Atom CPU and 2GB of RAM.
I quickly downloaded the latest ISO (4.7.0 at the time of writing) and installed it to a flash drive, booted it up on the kiosk to test out and right away noticed some issues that I'd need to fix. The issues were that the system didn't have a virtual keyboard, like it wasn't primarily targeted for touch info kiosks (but PK supports most touch devices out-of-the-box) and also in my case, Elo touch screen doesn't support multi-touch (for scrolling for ex.) and so you'd need to drag the scrollbar, but Firefox scrollbar for that Linux version is very thin and were out of touch bounds, therefore most pages couldn't be scrolled down the traditional way. I had to find solutions to these.
Read more