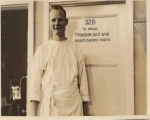 For those who knew Evilzone, knows that it was a unique place from the beginning. We had a nice community, active staff.
One of the things that made it so were an inside joke (there might have been a few, but I don't quite remember the rest of them) that new people didn't catch at the very start, but if they searched a bit, the whole story would unfold.
The joke over time transformed into a story and became a way to greet new people. One of the new people that joined Evilzone was a starting writer named Recon, and he liked the joke so much that he made a (short?) 14 chapter novel about it calling it "Dr. Noire". Ironically the last chapter was published in 2014… actually the whole novel was made through the year 2014.
I loved the novel, so I saved all of it, and I'm going to post it here one chapter a day. Why did I wait for so long? well, honestly I didn't think of posting it and I also had forgotten about it too…
So I suppose now with Evilzone being put to rest, it's OK to explain what the whole thing was beforehand…
Read more