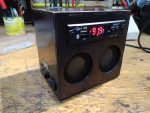 A very long time ago, I acquired cheap Microlab desktop speakers from a friend who agreed to trade them in exchange for beer.
At the time I needed them and he didn't. Right away after plugging them in I noticed that they are pretty shit in quality (would make an annoying humming noise even when powered from a USB charger and the audio quality was terrible), however they are really cheap so… I used them for a while and then set them aside to collect dust.
For those wondering why the speakers made that noise – it's because of a ground loop. Connecting the speakers through a ground loop isolator would solve this problem.
Now I thought that it would be nice to have those speakers portable for situations where one would be cool to have, but I didn't need those Microlab desktop speakers. So I thought I could re-purpose them and learn something in the process (like more advanced 3D modeling and how to use a laser-cutter more).
Read more