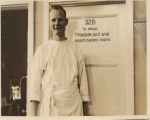 I reached for my Model 29, but the cold press of a Glock in my side stopped me. I slowly put my hands back on the table, letting out a sigh. I knew when I was beat.
The dame reached into my pockets and inside my jacket, putting my Model 29 and 1911A on the table along with the tranq gun the doctor had given me. Taking the clips out, she tossed them to her sister, leaving the empty weapons on the table. Sophia strode over and retrieved the doctor's tranq gun. She studied it carefully.
"Recognize the craftsmanship, Jerry?" she asked, and he nodded.
"Doctor Noire. I'd heard legends, but I've never seen any evidence to back them up. Until now, that is."
"Mordred Phain is his real name, or at least as real as we can tell. We don't know anything about his background."
"Then why does he think you're after him?" I asked. She looked at me in surprise, and her tone was one of utter incredulity.
"You spoke with him?"
Read more